Our Certified Arborists understand the unique needs and challenges with regional climate conditions.
Asplundh leads the way in integrated vegetation management (IVM) and continues to develop innovative application methods that enable ROW managers to more effectively and efficiently control the vegetation growing on ROWs nationwide.
Our vegetation management services include:
Pruning and removals along distribution and transmission circuits
Aerial and ground based side-trimming to widen off-road rights-of-way
Herbicide Application to selectively control undesirable vegetation
Mechanical or manual right-of-way clearing for new service
Emergency storm service
GPS locating and cataloging of vegetation on rights-of-way
Asplundh Canada has been providing professional, cost effective line clearance services to utilities and municipalities. Today, Asplundh Canada provides a much wider range of specialized services, but line clearance is still the core of our business. With approximately 1,100 vegetation management professionals serving customers across Canada, our equipment and people resources are world-class.
When trees are down or dangerously damaged, it's reassuring to know that Asplundh's crews are well-trained. Our tree crews are safety trained to identify hazards, so they can avoid injury or property damage. Asplundh's state-of-art storm center monitors major storm systems and quickly notifies key personnel in areas that may be affected. To avoid confusion in the midst of a storm situation, your local Asplundh Canada representative will gladly meet with you ahead of time to discuss storm emergency procedures.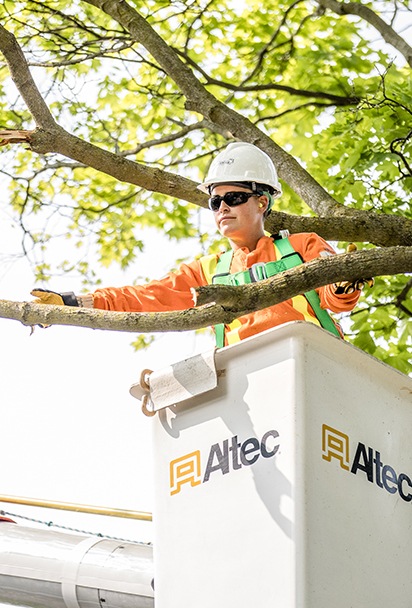 Additional certifications in arboriculture and herbicide application are encouraged, helping to maintain the company's reputation for professionalism and safety. In addition, our employees receive more specific safety training courses, as required by our customers.